In a bid to revitalise an economy even the Government has admitted has slowed, the Georgetown Chamber of Commerce and Industry (GCCI) has proposed a number of bold measures for individual sectors.GCCI President Deodat IndarAmong those measures is a stimulus package for each economic sector — an idea it was able to pitch to Finance Minister Winston Jordan during consultations for budget 2018.Speaking about its proposals, which formed part of a report the chambers submitted to Jordan, Chamber President Deodat Indar said the private sector is seeking the removal of VAT from electricity and water."For example, the forestry sector has gone down 18 per cent in the first half of the year, but that has gone down on further drops over the past two to three years. So they're taxing all manner of lumber. We're asking for the VAT to be removed. We're asking for the VAT to be removed from electricity, water, education."The other industry we have is the sugar industry," Indar said, during a recent press conference.He added that another sector that needs stimulus is the sugar industry, adding that shutting down estates would lead to economic harm that would be difficult to recover from.According to Indar, the job losses that would result from closing the estates cannot be mitigated by the other sectors. He noted that with less people working, spending and consumption would drop. This would result in reduced importation and manufacturing."So it's a whole spin-off of issues you have there. (In) the rice industry, we asked for VAT to be removed from herbicides, pesticides and fertilizers. We have numbers to show us the small farmers are hurting. We have had complaints from them when we go out into the rural areas," he explained."We want to ensure we have a Sovereign Wealth Fund set up as early as possible to deal with any revenue coming in from the oil and gas sector. He (Jordan) promised that sometime in mid-2018, we would have a first draft," Indar revealed.It is understood that, in the written proposal, the GCCI also called for a drop in the Tributors tax, from the 20 per cent the Government imposed to the original 10 per cent. It has also called for an incremental drop in corporate income tax to 25 per cent.EconomyThe Finance Ministry's half-year report was released in July. It had showed contractions in certain sectors when compared to the corresponding period in 2016. The declining sectors had included sugar, livestock, forestry, mining and quarrying, and even the bauxite industry.It showed that sugar production was recorded at 49,606 tonnes at the half year, and when compared to 56,645 tonnes during the first half of 2016, represented a decline of 12.4 per cent. The livestock industry also contracted by 10.9 per cent in the first half of 2017 due to heavy rainfall severely affecting production, especially in the second quarter.The forestry industry also showed an 18.2 per cent contraction in the first six months of 2017 compared to the same period in 2016. Declining production within the forestry industry was due to structural changes in the industry.The mining and quarrying sector contracted by 4.0 per cent during the first half of 2017. Gold production fell by 1.7 per cent to 317,096 ounces in the first half of 2017 compared to the same period in 2016. Also, it showed the bauxite industry declined by 11.5 per cent as a result of reduced production of higher valued grades.The report coincided with the trial period for the broadened imposition of a 14 per cent Value Added Tax on production in these sectors — even the education sector.In addition to the GCCI, groups like the Guyana Gold and Diamond Miners Association (GGDMA) and the parliamentary opposition have called for a reversal of the tax.
read more
The recent takeover of the divested sugar estates by the State-owned National Industrial and Commercial Investments Limited (NICIL) has caused some uncertainty in light of the numerous legal disputes to which the Guyana Sugar Corporation (GuySuCo) is party.This was related by Guyana Agricultural and General Workers Union (GAWU) President Komal Chand, who told Guyana Times that many issues involving the rights of workers remain unresolved.Wales Estate"What is clear is that they (NICIL) won't take over GuySuCo's debt, but there are workers' issues which are pending; who will have them addressed and resolved?" Chand questioned."We have issues like the wages issues; the Annual Production Incentive which we are still discussing which is gone to the Ministry of Labour for conciliation. We have to get clarification for all of this," Chand further queried.He further observed that GAWU is embarking upon consultations with its legal team to determine the legal ramifications of last December's takeover."We have to check the Gazette to see what they have available to see what they took over and what they didn't take over," GAWU's longtime President stressed.Under the Public Corporations Act, Chapter 19:05, Finance Minister Winston Jordan made an order on December 29, 2017 for NICIL to take over the assets of three estates, namely Skeldon, East Demerara and Wales. The order gave NICIL authority over "all the moveable and immovable property owned, used, leased or licensed by GuySuCo or the State, save and except for Albion Estate, Blairmont Estate, and Uitvlugt Estate".Skeldon EstateA section of the Finance Minister's order, however, stipulated that the transfer from GuySuCo to NICIL is "absolutely free and clear from all claims and liabilities". This stipulation has left the workers' representative bodies with questions that the organisations preferred answered.Before the recent takeover, the two unions – GAWU and NAACIE (National Association of Agricultural, Commercial and Industrial Employees) had appealed acting Chief Justice Roxane George's November 10, 2017 denial of their application to quash the GuySuCo and Cabinet decision to close the East Demerara and Rose Hall Estates. The organisations contended that the closure decisions were improper and there were insufficient consultations among the Government and GuySuCo, and GAWU and NAACIE.The union bodies went as far as the Caribbean Court of Justice (CCJ) to have the matter called up at the Appeal Court before December 31, but the CCJ denied this request, contending that the unions must exhaust all local avenues before taking the case there. Chand later vowed that GAWU would petition the local courts to ensure that workers receive adequate compensation for their loss of employment and lack of benefits.Another case before the court relates to the non-payment of severance to 375 workers who refused to take up employment at Uitvlugt, West Coast Demerara, and remain without their benefits. The matter was taken by GAWU to the High Court in March 2017, but after nearly one year, Guyana Times reported that the matter was likely to come up before a judge by March or early April in 2018.Meanwhile, as the many battles continue between the union bodies and various State entities, many retrenched workers say that they are finding much difficulty in garnering consistent employment which is affecting their ability to provide for themselves and their families. The Wales Sugar Estate was closed in December 2016 while almost 4000 Rose Hall, Skeldon and East Demerara Estates' employees were similarly let go by December 29, 2017.
read more
– says capacity being built within sectorGovernment has set modest goals for the tourism sector, with Business Minister Dominic Gaskin noting that while Government does not envisage Guyana being a mass tourism destination, capacity to enhance its eco-tourism appeal will certainly be built.Gaskin made this observation during a Guyana Tourism Authority (GTA) awards ceremony held at the Marriott Hotel on Saturday. He noted that Guyana's tourism offering particularly appeals to nature lovers, and has a heavy focus in the hinterland."We certainly do not want, or we do not envisage, Guyana as a mass tourism destination. We believe that our particular product is very attractive to a market segment that is not interested in mass tourism. They're interested in a more authentic experience: nature-based, people- based tourism," he explained."That is what we have, and that is what I think we should be selling. I don't think we're interested in creating Disneyland in Guyana. I think we know where to find Mickey Mouse and (Donald) Duck if we have to. That's not the model we will pursue. We also understand that we have a special product, and our special product needs special attention," Gaskin explained.Gaskin maintained that capacity to improve the tourism sector is being built within the sector. According to the minister who has responsibility for the tourism sector and the GTA, marketing the country as a tourism destination will be pursued along those guidelines."Without the necessary expertise; without capacity; without knowing where we're going, we would remain drifting in the wind, with no direction. We have to pursue the model that will work best for Guyana," he declared."And in Guyana's hinterland area, that's where our rich, real, attractive, ecotourism product lies. That's what we want to sell. That's where there are opportunities outside of mining. Tourism should be non-destructive," he declared.In January, Guyana hired US Expert Brian Mullis as the new Director of Tourism. Indranauth Haralsingh had previously been performing the duties of director. It was explained that Mullis, a US citizen of California, was chosen from seven applicants.In March of this year, former Tourism Minister Irfaan Ali, in a blunt assessment of the coalition's performance in the sector, had expressed disappointment about how tourism is being managed.According to Ali, the tourism sector holds much potential for Guyana, but there is need for a Tourism Policy to be guided by a strategic approach that is not limited to developing and marketing Guyana as a product, but caters to partnering with the private sector.Ali had pointed to a number of specific signature activities that were having a positive impact on the industry but have not been continued."Take, for example, the Rockstone Fish Festival, the emphasis on birding, the Guyana Festival, Phagwah, Diwali, the Wedding Expo, the Safari….these (are) all products that took time to nurture, and we have supported these products. We need to continue to embrace these products," he had explained.Ali had opined that the sector has become dormant because the Ministry of Business, which has oversight of the tourism sector, lacks the energy and vision necessary to take the industry forward.Guyana had made significant strides towards the promotion of Sustainable Tourism, and had been recognised for its efforts. Guyana's North Rupununi, Region 9, had justified the resources poured into its development by copping the 2012 Award for Caribbean Excellence in Sustainable Tourism.The award from the Caribbean Tourism Organisation and Travelmole (CTO/Travelmole) was awarded to Guyana's Rupununi Learners Inc for improving the quality of life of the region's inhabitants.In 2011, this award was shared by the Surama Eco-Lodge, also located in the North Rupununi, Region Nine (Upper Takutu-Upper Essequibo). This tourist destination was recognised by the CTO for harnessing the economic power of the visitor industry in a responsible and sustainable way. The 2011 award was shared with Harrison's Cave in Barbados.
read more
The launch of the 2012 North West Charity 10k will take place on Monday, March 12th in the Mount Errigal Hotel at 7 p.m. sharp.On the night 10k Chairperson Grace Boyle will announce the three charities that will be offered support by the organizing committee in their fundraising initiatives in the lead up to the charity race and walk which takes place this year on Sunday, May 6th in Letterkenny.All other charities taking part in the event must register with the 10k committee and are invited to come along on the launch night to confirm their participation. "We have had a huge level of interest since we first invited expressions of interest from charitable groups and organizations in November" the 10k Chairperson Grace Boyle said.With the committee having agreed to provide support to three charities for fundraising campaigns ahead of the event, interviews were held recently to select the successful applicants.The groups concerned will be notified shortly and will be officially unveiled on the launch night. However, all other charities interested in taking party on May 6th must also register with the 10k committee and are invited to come along on March 12th to confirm their participation. Over 2,500 took part in the 2011 charity race and walk. All are welcome to come along to the launch.  NORTH WEST 10K COMMITTEE TO ANNOUNCE THREE CHOSEN CHARITIES was last modified: February 14th, 2012 by StephenShare this:Click to share on Facebook (Opens in new window)Click to share on Twitter (Opens in new window)Click to share on LinkedIn (Opens in new window)Click to share on Reddit (Opens in new window)Click to share on Pocket (Opens in new window)Click to share on Telegram (Opens in new window)Click to share on WhatsApp (Opens in new window)Click to share on Skype (Opens in new window)Click to print (Opens in new window) Tags:North West 10k
read more
bytphixy
上海后花园WZ, 上海夜网ZR, 上海龙凤419FH, 上海龙凤419HS, 爱上海419NA, 爱上海419QN, 爱上海AP, 爱上海BS, 爱上海YD, 贵族宝贝PN
December 22, 2019
Letterkenny man Eric White has been shortlisted for a top gong at the 2017 IMRO Radio Awards.White, who works with BBC Radio Foyle, has been shortlisted in the Sports Broadcaster of the Year category.White is well-known on the airwaves, particularly for his live commentaries of Derry City's games. He is shortlisted alongside Ger Gilroy (Newstalk), Joe Molloy (Newstalk), Joanne Cantwell (RTE) and Marty Morrissey (RTE).White has worked with Radio Foyle for the last 15 years.In 2015, he won the FAI Communication for Best Broadcast for his work on Derry City's European adventures, following the team through the games against Aberystwyth in Wales and Shaktyor Soligorsk in Belarus.He is heavily involved in the football scene in Donegal and serves as the secretary of Letterkenny Rovers. The award winners will be announced on October 6th at a function in Kilkenny.Letterkenny man shortlisted for top broadcasting award was last modified: September 6th, 2017 by Chris McNultyShare this:Click to share on Facebook (Opens in new window)Click to share on Twitter (Opens in new window)Click to share on LinkedIn (Opens in new window)Click to share on Reddit (Opens in new window)Click to share on Pocket (Opens in new window)Click to share on Telegram (Opens in new window)Click to share on WhatsApp (Opens in new window)Click to share on Skype (Opens in new window)Click to print (Opens in new window) Tags:BBC RADIO FOYLEEric WhiteletterkennyLetterkenny Roversradio
read more
9 March 2009While the recently opened R1.5-billion Berg River Dam in the Western Cape province is expected to augment Cape Town's water supply by almost 20%, the government is still calling on the city's residents to use water sparingly.The project, a partnership between the Department of Water Affairs and Forestry, the City of Cape Town and the Trans-Caledon Tunnel Authority, comprises a dam with a storage capacity of 130-million cubic metres, a supplement scheme, two pump stations and 12 kilometres of pipeline.The dam, which started storing water in July 2007 and was full a year later thanks to good rainfall, and will increase Cape Town's total water supply from 668 to 898 cubic metres per year.Reducing demandThe conditional go-ahead for the project from the department was dependent on the city reducing its water demand by 20%. In response, the city implemented a water conservation strategy aimed at reducing the use of water by using treated sewage effluent instead of fresh water for irrigation and industrial purposes.As a result of this strategy, and because people have become more aware of the value of water and are trying harder to conserve it, the council is experiencing a 25% saving."Although the dam will alleviate immediate water shortages, it is imperative that Cape Town residents continue to use water sparingly and that, in a relatively arid province, we continue to develop a culture of saving water," Cape Town Alderman Clive Justus said in Franschoek last week.South African firstThe Berg River Dam was the first dam in South Africa to be designed, constructed and operated in accordance with the guidelines of the United Nations World Commission on Dams.The concrete-faced, rock-fill dam, located in the upper reaches of the Berg River catchment area, is 250 metres above sea level. It consists of an embankment of rock mined from the river bed and surrounding area, with an impermeable 300mm layer of concrete on the upstream side. The dam wall is 68 metres high and 929 metres long.The civil engineering and operational design of the dam and the downstream supplement ccheme was predicated on the need to maintain the ecological integrity of the river.The operating rules provide for specific volumes of water to be released from the dam to maintain the flow and integrity of the Berg River downstream of the dam.Supplement schemeIn addition to the dam itself, the project entails a supplement scheme located 10 kilometres downstream of the dam, alongside the Drakenstein (formerly Victor Verster) prison.The function of the supplement scheme is to divert winter high flow, entering the Berg River from the Franschhoek, Wemmershoek and the Dwars River tributaries, to supplement water stored in the dam. Water from the scheme is pumped via the Drakenstein pump station, along a 9.5km pipeline, back up to the Berg River Dam.Indigenous plants have been planted on the downstream face of the dam wall, which is visible from the main road into Franschhoek, ensuring that the dam and associated structures blend with the surrounding landscape.At the start of the contract, the Working for Water Programme was awarded a R21-million, eight-year contract by Trans-Caledon Tunnel Authority to remove alien vegetation from the Berg River catchments, significantly increasing the amount of water available for storage in the dam and for indigenous plant species.After completion, the dam was transferred from tunnel authority to the department, who operate and maintain it as part of their Western Cape water supply systemid.Source: BuaNews
read more
Tlou Sekwaila was selected to join the ranks of our Play Your Part ambassadors in recognition of his selfless work in using sports to improve the lives of youth and adults in his rural hometown of Ga-Sechaba in Limpopo.Tlou Sekwaila, founder of the Moletjie Sports Academy in Limpopo, has dedicated his time and efforts to help drive the development of people in his community. It is this dedication that has led to his becoming a Play Your Part ambassador.Play Your Part ReporterIndividuals and even whole communities can benefit from sport's power to unify and develop a healthy body and attitude towards life.It is for this reason that Tlou Sekwaila founded Moletjie Sports Academy in the village of Ga-Sechaba in Limpopo.Sekwaila, one of the latest additions to our group of Play Your Part ambassadors, is a firm believer in the transformation that sport can bring about – so much so that he has been playing an active role in improving the lives of people in his community through sport for the best part of the last decade.A sporting community is a growing communityEstablished as a community-run NGO in 2007, the academy creates a platform for youth, adults and the community to interact through sport, culture and recreation. Sekwaila says that the organisation will "assist in removing the youth from the streets and liquor outlets".He aims to reduce the growing number of youths and adults turning to alcohol and drug use during their free time by offering them a more productive way to keep themselves occupied, while also supporting social, physical and mental health.The academy gives the community of Ga-Sechaba access to a wide range of sporting disciplines such as soccer, netball, volleyball, cricket, handball and rugby. It also offers a number of indigenous games such as diketo, kgati, kho-kho, dibeke and moruba.With this wide range of activities, sporting academy members can choose which sports and games play to their strengths as individuals and make sure the academy is as inclusive as possible.It is also working to unearth some of Limpopo's promising sporting talents by offering them the resources and support they need to develop.A number of youngsters from the academy have gone on to participate in local, regional and provincial sporting events, and Sekwaila hopes that in time some of them can take up professional sports as a means to provide for themselves and their families.Beyond sportsThe aim of the academy, he says, is not only to provide access to different sports that would otherwise be unavailable to the people of Ga-Sechaba, but also to provide life skills to people living in a rural community that presents many challenges.By providing guidance, inspiration and support, Sekwaila hopes to make a lasting impact on the lives of those he reaches.His dedication to making a difference is what makes him a great new addition to the ranks of Play Your Part ambassadors, setting an example of active citizenship that others can copy.Would you like to use this article in your publication or on your website? See Using Brand South Africa material.
read more
South African star Hashim Amla's maiden unbeaten T20 century helped Kings XI Punjab post a mammoth 198/4 against Mumbai Indians in their Indian Premier League 2017 match at the Holkar Cricket Stadium in Indore on Thursday.Put in to bat, the hosts were off to a steady start with Amla (104 not out) and Shaun Marsh (26) putting on 46 runs before Maxwell took just one over from pacer Mitchell McClenaghan, milking 28 runs, to change the complexion of their innings.Amla took full advantage of the life he got on 3 when he was dropped off a difficult chance by Nitish Rana, to first get to a superb half century in just 34 balls.Amla didn't look back from there on as he wasted no time in dispatching the Mumbai Indians bowlers to help KXIP reach the three-figure mark as the home side ended two short of 200.Amla's 60-ball effort was laced with eight hits to the fence and six over it while Maxwell consumed just 18 balls and struck four boundaries and three sixes.Speaking after his ballistic innings, Amla said it was nice for him to get some runs under his belt."It was really nice to get some runs. Maxwell came out and really gave us some momentum. You got to take more risks in this format, sometimes they go your way and sometimes they don't."The first two wickets we played on were not as good as this one. The crowd has been fantastic, hopefully 200 is going to be enough for us. It's a very good wicket, not too much turn either and it's going to be a good challenge for us," Amla said.advertisementHowever, Amla's fine innings was not enough for KXIP to win the match as Mumbai Indians rode on destructive half centuries from Englishman Jos Buttler and young Nitish Rana to thrash the hosts by eight wickets.
read more
Gaming How to play the Goal World Cup Fantasy Football Game Kevin DeVries Fantasy Football Writer Last updated 1 year ago 22:20 5/23/18 FacebookTwitterRedditcopy Comments(1)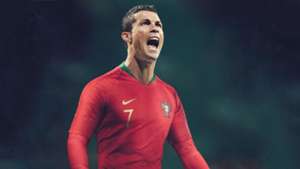 Nike Gaming World Cup Portugal v Spain Spain Portugal The likes of Ronaldo, Messi, Neymar and Salah will be gracing Russia in June and you can create an all-star team for a chance to win great prizes It's quick and easy to create a winning World Cup Fantasy team. Your challenge is to pick the best XI based on your knowledge of the players, teams, and groups in the tournament so you can score as many points as possible.Just download the app, then login with Facebook or register your details.You can take on other Goal fans in our Global League or create a mini-league and challenge your friends to play. There are prizes to be won too so don't miss out. Article continues below Editors' Picks Goalkeeper crisis! Walker to the rescue but City sweating on Ederson injury ahead of Liverpool clash Out of his depth! Emery on borrowed time after another abysmal Arsenal display Diving, tactical fouls & the emerging war of words between Guardiola & Klopp Sorry, Cristiano! Pjanic is Juventus' most important player right now

When you first open the app you will be invited to Create a New Team. Select the World Cup competition from the list and an animated guide will give you an overview of the game before taking you to the Pick your Team screen.You have a starting budget of £75M to spend on 11 players, you must pick players to make a valid formation (4-4-2, 4-3-3, 4-5-1 etc). The app will let you know if your formation is valid as you create your team.To begin, you can filter players using the Player Position filters: GK, DEF, MID, FOR.When you click a position tab the players will automatically be organised by the country they represent. You can click on the SORT button to order players Alphabetically, by Country, by Points, Value or Form.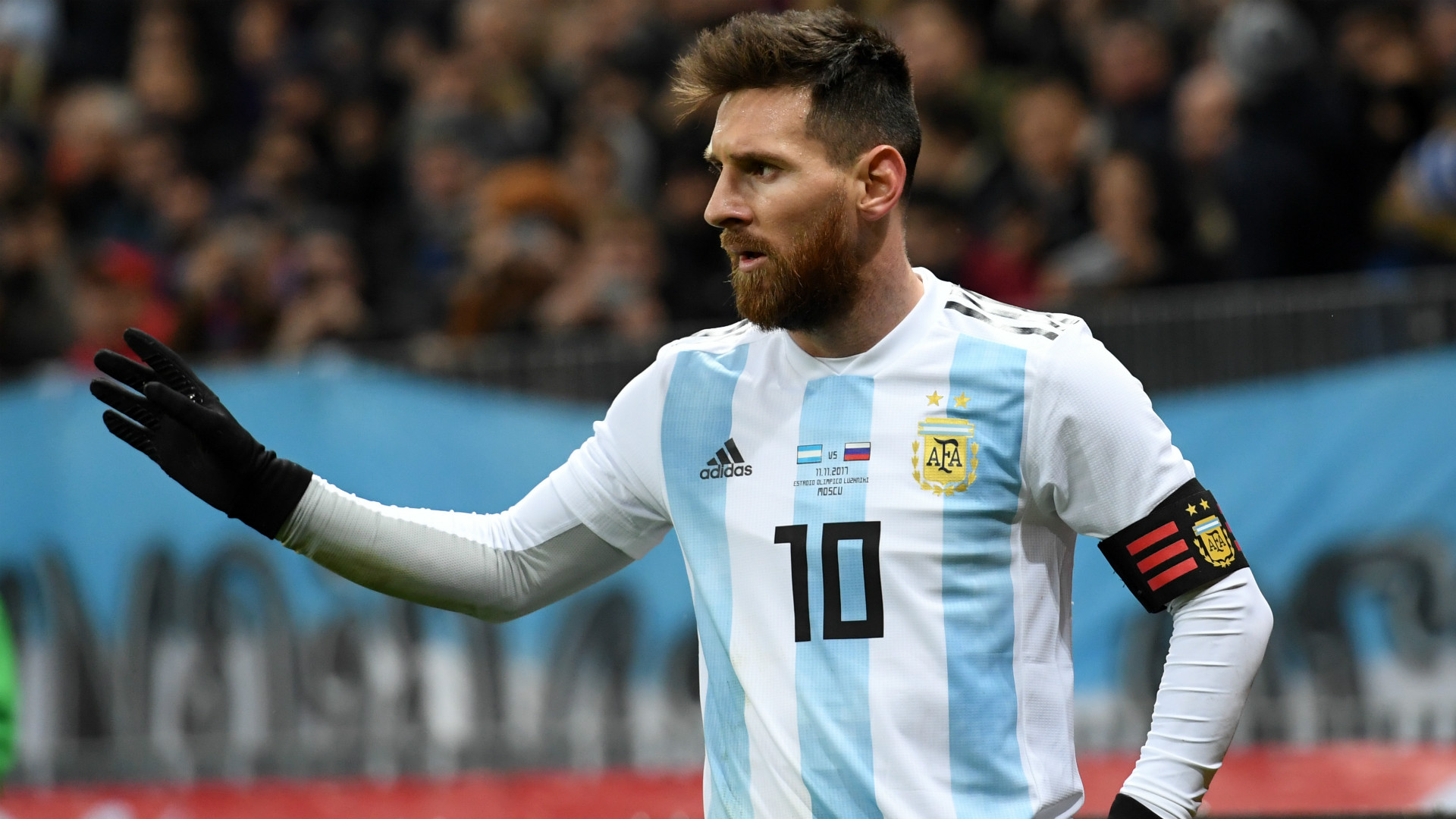 Simply click a player's name to get their stats for the tournament or click on their value to add them to your team.At the top of the screen in the info bar, you can track how much you've spent and how many players you've chosen. It will also tell you if you have selected enough players for each position to make up a valid formation.You can check your team formation at any point by clicking on the pitch icon.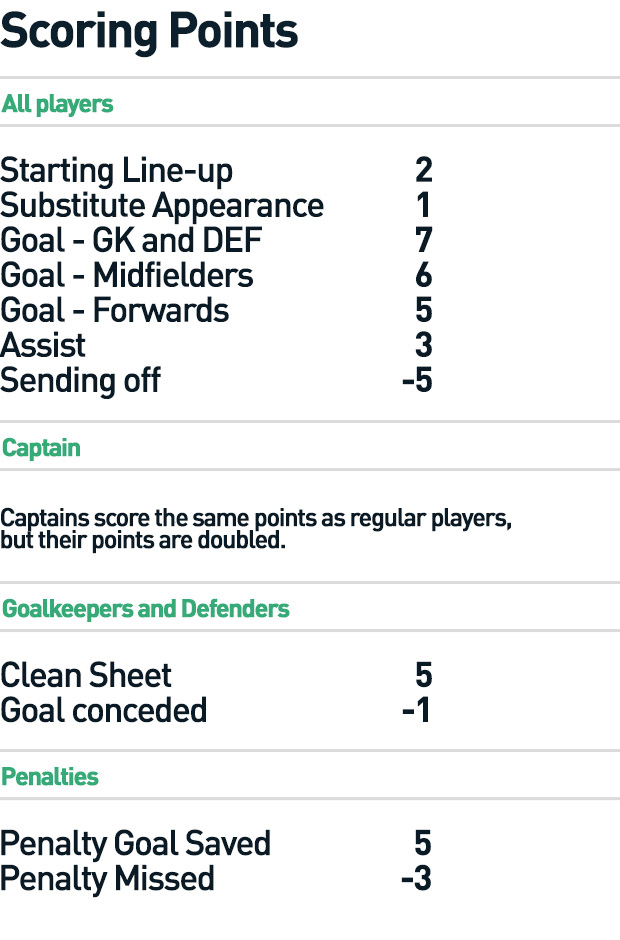 Points are awarded based on real-life matches. For example, if you have selected an England player in your team, you will be awarded two points if that player starts the game.

Making transfers is a vital part of the game as it can mean the difference between scoring a few points or lots of points!Goal Fantasy Football is different from other Fantasy games, because we let you make changes to your team in between games. If you use your transfers wisely, you can have at least 13 players scoring each round instead of only 11!For example, if you have picked Harry Kane in your team and England kick-off at 1:00pm, you can transfer him out at 1:45pm and replace him with Cristiano Ronaldo, whose Portugal team will play in a match that kicks off later at 7:00pm. You will still collect all the points that Kane is awarded as well as any points awarded to Ronaldo.For every round of games your team team will be allocated a fixed number of credits, you can view the schedule from the in-app Match Centre. Usually, you will receive three free transfers with the option of purchasing a maximum of one additional transfer (see app for details).

read more
bytphixy
Ankoma, Augustus, Cevin, Coleen, Darci, Eunice, Gemma, Georghia, Kaya, Maritza, Maya, Melz
October 22, 2019
It's just like 1874 again. That is when the WD Lawrence, the largest full-rigged ship ever launched in Canada, slipped into the waters of the Bay of Fundy from the Lawrence shipyard along the Maitland shore, to the applause of thousands of spectators. On Friday, Sept. 22, and Saturday, Sept. 23, Nova Scotians can help re-enact the celebration of the great launch at the 20th Annual Maitland Launch Day festival. Visitors can put on their favourite Victorian attire, bring the family and visit Maitland, Hants Co., for a variety activities. On Friday, at 5 p.m., fans can cheer on the competitors in the "preliminaries" of the whiskey-barrel races at Dawson Dowell Park. At 7 p.m., visitors can enjoy a folk music concert at St. David's Church featuring the Cantabile Choir. Tickets are $8 for adults and are available at the door. On Saturday, starting at 10 a.m., visitors can experience the excitement and bustle of activity as villagers in mid-1800s' costume gather for fun, food, demonstrations of heritage crafts, and many maritime-related special events. The festival's official parade of villagers in Victorian costume starts at 12:30 p.m. and processes along the main street to Lawrence House Museum. Visitors will meet characters such as shipwrights, caulkers, and ships' captains awaiting the next high tide. Following the parade will be a re-enactment of the launch and the banishment of a whiskey pedlar, both based on actual historic events. Other activities on the museum grounds include a performance by the Playford Dancers, a display of sailing ship exotica, and demonstrations of heritage arts and crafts such as traditional sail making. The day's events finish with the whiskey-barrel race finals. The festival includes plenty of food. At Lawrence House lunchtime, enjoy a hot dog cooked by Scouts from the 1st Maitland troop. At dinnertime take in a turkey dinner or a baked bean, ham and salad meal at one of the church suppers in the village. Visitors to Lawrence House Museum can discover the story of shipbuilder, entrepreneur and politician, W.D. Lawrence and his family. They also get an in-depth look at the maritime history of the Maitland area. Admission to the museum is free all day Saturday, Sept. 23. The annual Maitland Launch Day is organized by the community's Launch Day Committee in partnership with Lawrence House Museum and with support from the Municipality of East Hants. For a complete schedule of events see the website at lawrence.museum.gov.ns.ca . For more information call 902-261-2628. Lawrence House Museum is part of the Nova Scotia Museum family. The museum remains open to the public every day until Oct. 15.
read more